DAILY NAILY ND – Nail plug
USE: Light fixings to concrete, solid stone, cavity breeze block and porous concreteThis KTS nail plug made of high quality, impact resistant polyamide (nylon) is ideal for fixing roof battens, metal trims, frames or posts through concrete or masonry.
Each plug is supplied ready fitted with a zinc-plated screw nail, which can be simply and quickly knocked in with a hammer. The recessed screw head lets it then be loosened and adjusted.
This information should be regarded as general recommendations. More specifically, please note that these plugs and anchors may not be used for work subject to building inspections (e.g. for securing façade substructures, roofs etc.).
* Safety factor 3
Technical data ND-S Nail plug with countersunk head
Small packing
Article-No.
Packing unit
Weight per packing unit
Screw nail Ø mm + length
5 x 30 mm
1330503041
200 / 2.000
4,6 kg.
3,3 x 31
5 x 40 mm
1330504041
200 / 2.000
6,0 kg.
3,3 x 41
5 x 50 mm
1330505041
200 / 2.000
7,2 kg.
3,3 x 51
6 x 40 mm
1330604041
200 / 2.000
7,2 kg.
3,85 x 41
6 x 50 mm
1330605041
200 / 2.000
10,0 kg.
3,85 x 51
6 x 60 mm
1330606041
200 / 2.000
11,0 kg.
3,85 x 61
6 x 80 mm
1330608041
100 / 1.000
7,2 kg.
3,85 x 81
8 x 60 mm
1330806041
100 / 1.000
8,9 kg.
4,85 x 61
8 x 80 mm
1330808041
100 / 1.000
11,6 kg.
4,85 x 81
8 x 100 mm
1330810041
100 / 1.000
14,8 kg.
4,85 x 101
8 x 120 mm
1330812041
100 / 500
17,3 kg.
4,85 x 121
8 x 140 mm
1330814041
100 / 500
20,5 kg.
4,85 x 141
8 x 160 mm
1330816041
100 / 500
24,0 kg.
4,85 x 161
Technical data ND-Z Nail plug with pan head
Small packing
Article-No.
Packing unit
Weight per packing unit
Screw nail Ø mm + length
5 x 30 mm
3330503041
200 / 2.000
4,6 kg.
3,3 x 31
5 x 40 mm
3330504041
200 / 2.000
6,0 kg.
3,3 x 41
5 x 50 mm
3330505041
200 / 2.000
7,2 kg.
3,3 x 51
6 x 40 mm
3330604041
200 / 2.000
7,2 kg.
3,85 x 41
6 x 50 mm
3330605041
200 / 2.000
10,0 kg.
3,85 x 51
6 x 60 mm
3330606041
200 / 2.000
11,0 kg.
3,85 x 61
6 x 80 mm
3330608041
100 / 1.000
7,2 kg.
3,85 x 81
8 x 60 mm
3330806041
100 / 1.000
8,9 kg.
4,85 x 61
8 x 80 mm
3330808041
100 / 1.000
11,6 kg.
4,85 x 81
8 x 100 mm
3330810041
100 / 1.000
14,8 kg.
4,85 x 101
8 x 120 mm
3330812041
100 / 500
9,0 kg.
4,85 x 121
8 x 140 mm
3330814041
100 / 500
10,0 kg.
4,85 x 141
8 x 160 mm
3330816041
100 / 500
12,0 kg.
4,85 x 161
Testing ND – Nail plug with premounted screw nail
Material: NYLON (Polyamide 6)
Diameter mm
5
5
5
6
6
6
6
8
8
8
8
8
8
Length mm
30
40
50
40
50
60
80
60
80
100
120
140
160
Drilling diameter mm
5
5
5
6
6
6
6
8
8
8
8
8
8
Min. drilling depth mm
40
50
60
50
60
70
90
70
90
110
130
140
170
Min. anchoring depth mm
25
30
30
30
30
30
30
40
40
40
40
40
40
Max. using length mm
5
10
30
10
20
30
50
20
40
60
80
100
120
Pull out tension value concrete (kN)*
0,30
0,40
0,40
0,60
0,60
0,60
0,60
1,00
1,00
1,00
1,00
1,00
1,00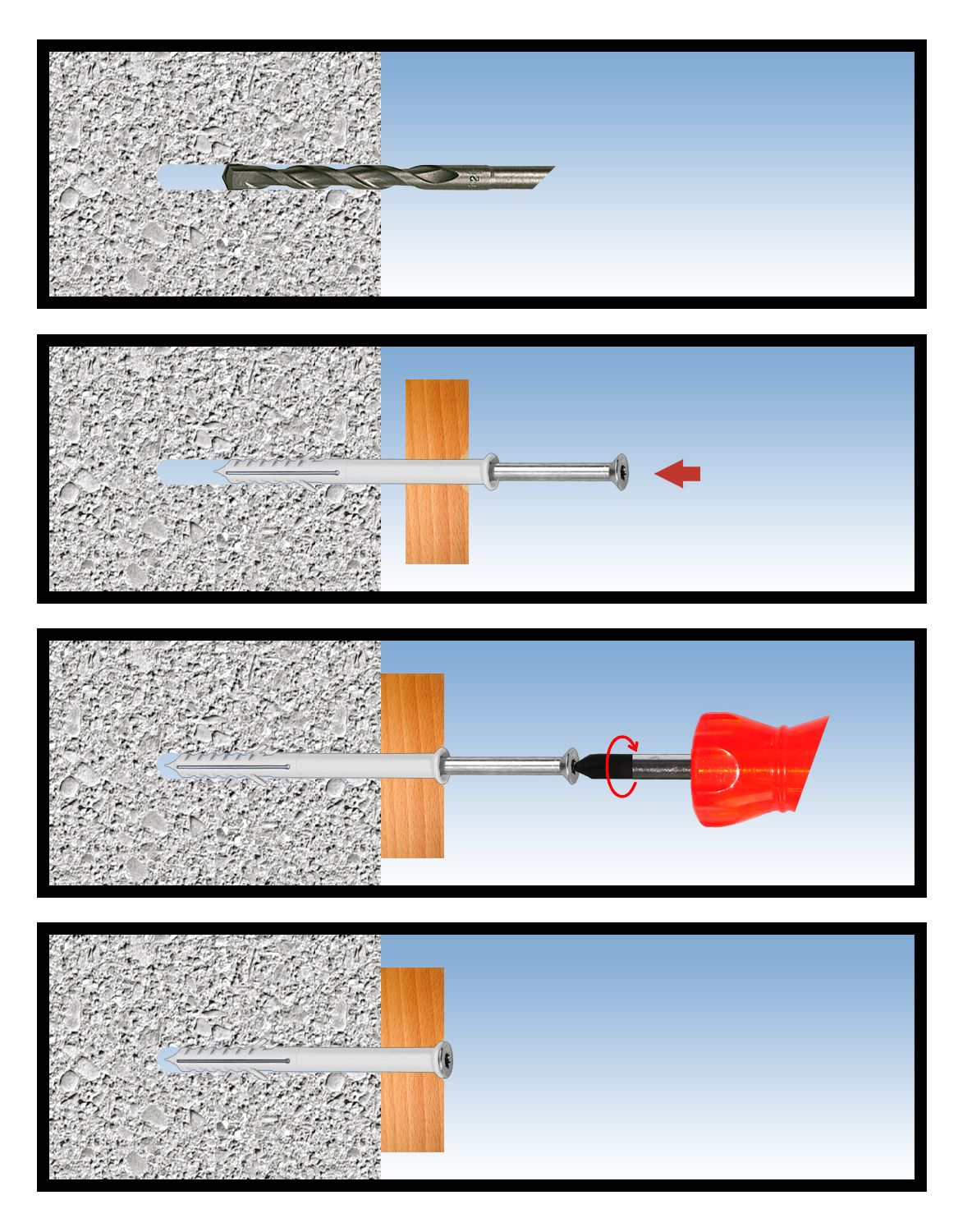 Functioning ND – Nail plug with premounted screw nail